Marta Priu has a degree in Advertising from Abad Oliba University and a Master's degree in Marketing and Communications in fashion and luxury sectors from the Complutense University of Madrid and ELLE magazine.
Marta Priu founded Bcn Wedding Planners in 2005 as one of the pioneering agencies in introducing the concept of the wedding planner as a professional designer and organizer of weddings. Today, Marta Priu is a renowned Wedding Planner and Designer in Spain.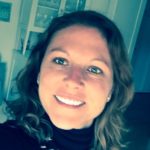 In 2007 she founded Bcn Event Planners, an agency dedicated to provide professional corporate event management services, whose clients include firms of national and international renown such as HP, Swarovski, Prudential, Unicredit, Menarini Laboratories, Privalia, Softonic…
Marta Priu is a member of the Independent Association of Young Catalan Businesspeople (AIJEC) and an active lecturer on wedding planner courses (her own training scheme which has taught over 100 students from different countries).
Marta Priu has been interviewed by the country's leading media, such as newspapers "El Mundo", "La Vanguardia", "El Periódico", "RTVE", "TV3"…, and she has also participated in numerous forums as an expert wedding planner and designer.
In 2014, Marta Priu decided to create a premium service on a national level for the most discerning and demanding of clients.